NALLI KANDASAMI SILKS & SAREES
---
50 years of heritage wrapped in 5 yards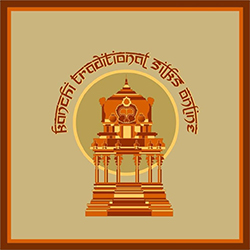 An icon of South India, Nalli Kandasami Silks & Sarees has become synonymous with silk and Kanchipuram sarees. Nalli Kandasami Silks & Sarees was established in the year 1967 and has been a leader in the textile and retail business for over 50years. Nalli Kannaiya Chettiyar's success story has a fairy tale ring to it. Started as a small HAND LOOM WEAVING (THARI) IN KANCHIPURAM for silk sarees 6 weavers and 2 employees by Nalli Kannaiya Chetty, the family-run shop did steady business for thirty years after which the son, Nalli Kandasami Chetty took over.
In a radical departure from convention, Nalli Kandasami decided that the shop would do very best discount selling, in direct weavers price an unheard-of prospect back in the 1990s. Since then it has been a pioneer in the field of textiles, leading the change for an entire industry. Soon, Nalli Kandasami Silks & Sarees built an image of unrivalled quality at competent prices and its roster of loyal clients also grew multi-fold.
Nalli Kandasami Silks has evolved with the times to become a category-killer in the Kanchipuram silk saree industry, offering everything from traditional silks to light weight to organza versions like duppata and pattu pavadai to even all at real gold zari sarees. It also boasts of an apparel line for women and ready-to-wear menswear – withpattu vesti – costumes order and accessories, soft furnishings.
Today, Nalli Kandasami Silks & Sarees business focus has broadened, becoming not only a leading saree-retailer, but also one of the foremost manufacturers and exporters of silk sarees , apparel and home furnishings.Nalli Kandasami Silks & Sarees has also forayed into and women's ethnic
With 50 years of considerable brand equity, international presence and saree stores across India, Nalli Kandasami silks & sarees is poised to scale even greater heights. An iconic heritage brand stepped in tradition, Nalli Kandasami upholds the core values of Trust and Quality, converting generations of new saree owners into loyal one of the online part is kanchitraditional silks online patrons.@ Nalli Kannaiya Chettiyar … KANCHIPURAM